Anna Auer: Die Wiener Galerie Die Bruecke – Ihr internationaler Weg zur Sammlung Fotografis, Passau 1999, illustrated, 243 pages (in German, introduction in English by Heinz K.Henisch).
Youtube-Link: English version of the video
In 1969, a trip to Milan took me to Lanfranco Colombo (1924–2015,) who had been running his gallery "Il Diaframma" (non-profit) since 1967, which closed in 1996. Jean Pierre Sudre in Paris encouraged me a lot to start a photo gallery in Vienna. Together with my friend and collaborator Werner H. Mraz I opened the gallery on March 6, 1970 showing the work of the French photographer Daniel Barreau. In April 1971, after decades of being forgotten, we presented Herbert Bayer's photographic work, which caused quite a stir in the art scene of Austria. In the same year we met Allan Porter, editor of the Swiss magazine CAMERA, from which a long and productive collaboration developed. The European photo galleries meeting in Cologne in 1972 proved that there was already a great interest in collecting photographs. That was why we took part in 1973 as the first European photo gallery at the ART'4 in Basel. Between 1974 and 1976 we edited our bilingual newsletter INTER VIEW. In 1975 we invited Van Deren Coke to present his work at the gallery and showed also the amazing narrative work of Duane Michals as well as Pierre Cordier's "Chemigrams". In 1978 we gave a first retrospective of Beaumont Newhall's photographic work in our gallery.
For reasons of copyright, the Mickey Mouse act by Les Krims was removed.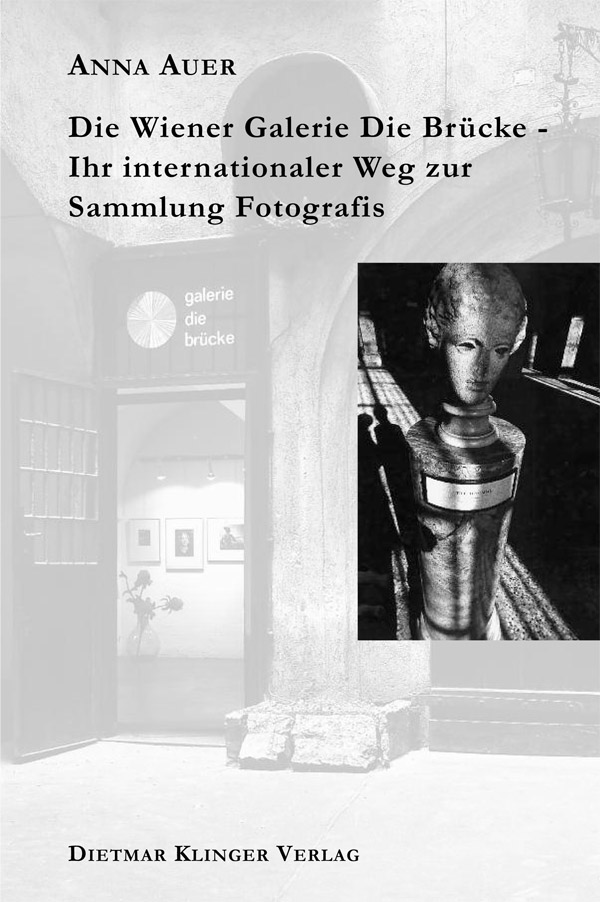 ISBN 3-932949-03-X. Book out of print!
Anna Auer and Werner Mraz founded the photo gallery "Die Brücke" in Vienna in 1970. After the Photographers Gallery in London, it was the first commercial operation of this kind on the continent. The book describes the gallery's genesis and exhibition policy until its end in 1978. The second part of the book deals with the establishment of the FOTOGRAFIS Collection, which is inseparably connected with the name of Anna Auer, in 1976.
Some photographs of the first photo gallery on the European continent, »Die Brücke«